22 Mar 2016
Blog post was written by End Water Poverty member, Coalition Against Typhoid, and originally posted on their website on World Water Day: 22 March 2016.
Each year, typhoid kills an estimated 200,000 people, most of whom are children. The burden of typhoid is greatest among those living in poverty throughout Asia and Africa, but the disease has now become a serious threat in destabilized nations in the Middle East.
On March 2, the House Committee on Foreign Affairs held a subcommittee hearing on disease threats in the region. In his testimony, Dr. Issam Raad, president of Health Outreach to the Middle East, highlighted typhoid fever as a growing concern in Syria. The next day, the World Health Organization's Regional Director for the Eastern Mediterranean, Dr. Ala Alwan, released a statement seeking support for Syria's crumbling health and sanitation systems. Like Dr. Raad, Dr. Alwan cited typhoid fever as a major health hazard in the country.
While typhoid has been plaguing Syria since late last summer, when the United Nations Relief and Works Agency for Palestine Refugees in the Near East first reported an outbreak in Yarmouk refugee camp in Syria, continued conflict in the region has exacerbated the problem. With health care facilities either closed or suffering from supply shortages, access to vaccines for prevention and antibiotics for treatment is dwindling. At the same time, the risk of infection continues to grow.
Typhoid, a disease spread through fecally contaminated food and water, thrives in environments like Syria, where almost two thirds of the population have no access to safe water. The country's crippled health care system and an absence of stable water, sanitation and hygiene (WASH) services have fueled the rise of waterborne diseases like typhoid and cholera. Unfortunately, Syria is not alone in struggling with the health consequences of a water crisis. Typhoid outbreaks in Nepal and Uganda have also been linked to unsafe water and sanitation. And with the recent emergence of drug-resistant typhoid, prevention is more critical than ever.
The good news, though, is that many communities are combating waterborne illness with WASH programs. In Jordan's Azraq refugee camp, a borehole provides potable water for 26,000 displaced Syrians. In India, a government initiative is encouraging behaviour change by promoting handwashing and personal hygiene in rural schools; and Senegal is piloting a machine that turns faeces into drinking water.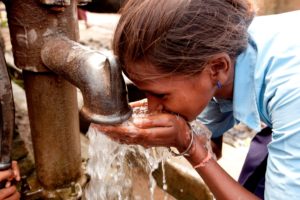 Universal access to clean water and sanitation is critical, not only for the prevention of typhoid, but for a host of waterborne diseases. When coupled with lifesaving vaccines, WASH can greatly improve the health of vulnerable communities and has the potential to prevent 842,000 deaths per year. The Coalition against Typhoid, a global forum of health experts led by the Secretariat based at the Sabin Vaccine Institute, is committed to bringing WASH into the typhoid conversation. With communities like Yarmouk at stake, we cannot afford to ignore the importance of water.